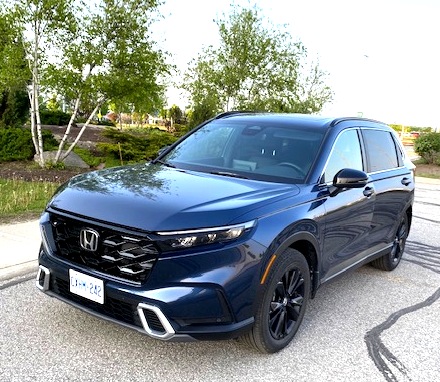 Clean purposeful design of the new CR-V
History
The 2023 Honda CR-V is the sixth-generation vehicle of the nameplate that debuted for the 1997 model year. The new CR-V is built on a 40 mm (1.6 inch) longer wheelbase, is 69 mm (2.7 inches) longer, the same height and a massive 85 mm (3.3 inches) wider than its predecessor. The new-generation CR-V marks the release of the hybrid variant of the vehicle previously unavailable in Canada.
Model Mix
The new CR-V is offered in four main trims, all of which have standard all-wheel drive except for the base LX model. The ultimate model, the Touring, is exclusively hybrid. The familiar 1.5L turbo four returns and is joined by the hybrid that combines the efforts of a normally-aspirated 2L four with electric motors to produce 204 horsepower and 247 lb-ft of torque. Drive reaches the wheels exclusively via a CVT. A full active safety suite, including a forward collision warning, autonomous emergency braking, a lane keep assist system and active cruise control is standard for 2023. There is an LX-B trim that deletes the blind spot and rear cross traffic.
| | |
| --- | --- |
| Vehicle tested | 2023 Honda CR-V Touring hybrid |
| Body style | Crossover utility vehicle |
| Engine | 2L-4 and hybrid powertrain |
| Transmission | CVT |
| MSRP spread | $34,240 to $48,890 |
| Price as tested | Touring hybrid $48,890 |
| NRCan combined fuel economy | 6.9L/100 km |
| | |
Styling
The CR-V is fronted by a gigantic truck-like grille to create an imposing look. The side profile is visually calm and resembles that of a softer-lined Volkswagen Tiguan. The rear styling of the new CR-V is very Honda but significantly less fussy than that of the last CR-V.
Interior
The cabin of the CR-V is a vision of tasteful, conservative elegance. Crisply-marked TFT gauges face the driver on the range-topping Touring model. The standalone dashboard screen has reasonably attractive graphics. There is an on-off knob and physical buttons for "back" and for "home" but the lack of a knob for radio tuning is a real problem while driving and setting up radio presets is not intuitive. In contrast, the HVAC controls are brilliantly simple. A knob at each end of the control panel for dual temperature adjustments, with a middle one for on-off and for fan speed. All knobs are internally lit and manipulated by bright rings that move with a satisfying precision. There are clearly-marked buttons for windshield defrost, rear window and door mirror defrost, distribution, recirculation and the air-conditioning compressor. Like on the Civic, vents reside behind honeycomb grilles. The dash centre stack has two USB-C ports, one for connection and one for charging. The Touring model is equipped with a wireless cellphone charging pad at the base of the dash centre stack. The reasonably slim console houses a delightfully conventional PRNDL gear selector.  The elegant door panels are padded from the window to the armrest. With a roomy bin in front of the shifter, a spacious bin under the console armrest and commodious door bins, there is a lot of space to store the ephemera carried by modern motorists. The front seats are large and comfortable and there is plenty of space for even the largest drivers. The rear seat is equally comfortable and rear passengers enjoy impressive legroom. The black leather seats on our Touring model were enlivened by orange stitching. The rear doors contain large storage bins and there are cupholders contained within the rear centre armrest. The Bose-branded audio system delivers unimpressive sound. The rear seat cushion submarines as the rear backrest is folded down but the backrest nonetheless creates a little step where it meets the cargo floor. Cargo capacity of the CR-V is impressive and there is little intrusion from wheel wells and the cargo bay is deep below the window line.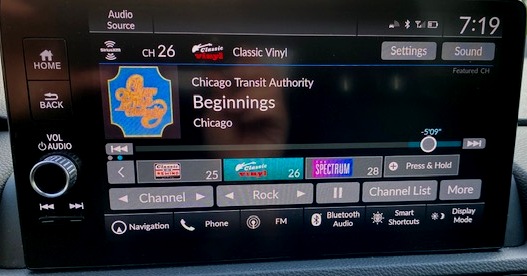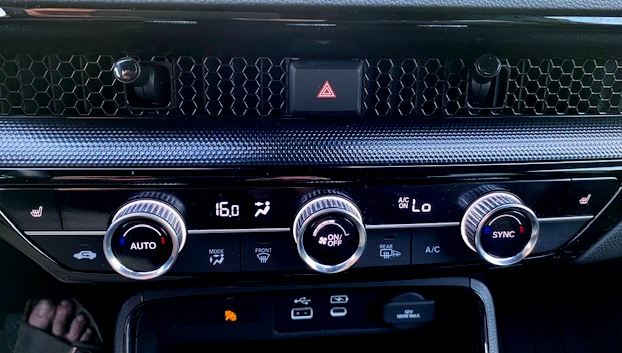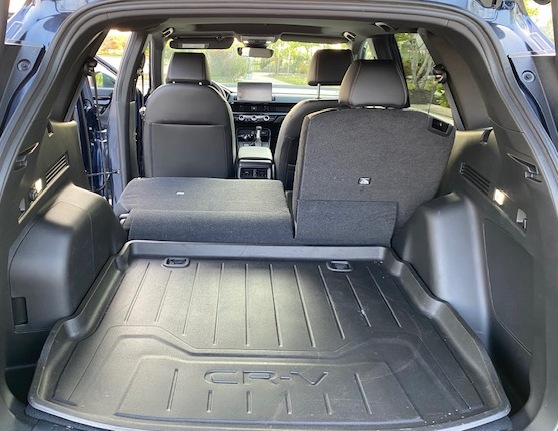 Performance
The 2L naturally-aspirated four combines with electric motors to create 204 combined horsepower and 247 lb.ft. of torque. In typical Honda hybrid fashion, they picked too small a basic engine to pair with the hybrid system. Sensitive drivers will notice a muted, distant "frenzy" from under the hood when slight acceleration is requested at lowish speeds. That said, if the radio is on at a reasonable volume, the "frenzy" is more felt than heard. Requests for brisker acceleration alters the sonic profile and the engine smoothes out and sounds discreetly enthusiastic. Acceleration is eager and the car is a quiet cruiser. The CVT transmission works well and is programmed to simulate shifts as the vehicle accelerates. Double glazed front door windows result in low wind noise and road noise is nicely restrained for a Honda.
Steering is direct and nicely weighted, if not the last word in feedback, and it holds its line well on the highway. Handling is crisp and very stable with no noticeable lean but not at the expense of ride, which is delightfully absorbent. The choice of 235/55/19 tires with a nice thick sidewall demonstrates that Honda views this vehicle as a family hauler and has not sacrificed ride quality in pursuit of 'Sports Car" handling or the look imparted by massive wheels and tires.
Honda hybrid system delivers good performance and impressive fuel economy
Pricing
With heated seats, remote starting, L.E.D. headlights and an alarm system, the base LX trim is nicely equipped. An LX-B sub model, without blind spot and rear cross traffic monitors, reflects Honda's inability to get the computer chips needed for them, and is offered for $550 less. All-wheel drive is standard on all trims except the LX, where it is a $2800 option. The Sport trim adds a power driver's seat, a heated steering wheel, a sunroof, a power tailgate and a number of smaller comfort and convenience items, at a good price. The EX-L trim features leather seating, an upgraded audio system, heated rear seats, a memory system, a power passenger seat and front and rear parking sonar, and is a tremendous value. The Touring is offered only with the Hybrid powertrain. Of the $5500 price boost demanded for the upgrade, about $2000 can be attributed to additional equipment with the rest related to the hybrid system.
Summary
Though it has been available in other markets for years, hybrid power for the CR-V is new to Canada for 2023. Honda restricts hybrid power to the super-premium Touring trim this year but has announced that an EX-L variant of the hybrid will be offered for 2024.
Unlike Toyota, which offers a proven hybrid system Toyota dealers are used to servicing, Honda have only really dabbled in the hybrid arena in Canada, have never had a successful volume hybrid model here and their hybrid system and service back up here are unknown quantities.
Those cautions aside, the vehicle itself works well and is economical, with an NRCan combined fuel economy figure very close to that of the Toyota RAV4 hybrid. In addition, Honda have planned for a high percentage of overall CR-Vs to be hybrid and delivery times at the end of September 2023 were around a month. Toyota's inability to deliver RAV4 hybrids in a time that consumers can get their heads around will lead some RAV4 hybrid intenders to a Honda dealer out of frustration.