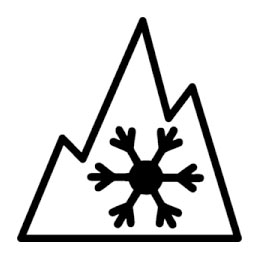 Tires in this section carry the mountain and snowflake logo, which means that when new they are able to pass the traction test applicable to a dedicated snow tire. Their tread is relatively aggressive compared to an all-season tire, to favour performance on uncleared roads. The rubber compound is harder and more heat resistant than a winter tire, to permit good year-round performance.
Does that mean that all tires with the logo can be trusted in winter? NO. Tiremakers have begun taking advantage of the aging industry standard for winter tire performance to slap a logo on All-Terrain truck tires and other tires that do not perform well on ice. To our knowledge, the APA's testing is the only consumer information available that separates All Weather tires that genuinely perform adequately in a Nordic climate winter from some of the also-rans that sport the same logo.
Benefits of All Weather Tires
No autumn and spring tire changeover (but you do have to rotate tires every 8,000-10,000 km to maintain even wear)
No off-season tire storage charges (save a minimum of $100 a year if you currently pay for tire storage)
A year-round solution for your leased vehicle (if the lessor will accept them back instead of the tires that originally came with the vehicle.)
Best
Nokian WRG4 SUV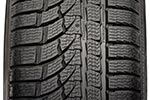 Nokian introduced the first All Weather tire 10 years ago. Winter performance of the WR G4 rivals many snow tires. In summer it is relatively soft riding, quiet, nice handling and durable. Expensive, limited distribution network.
| | |
| --- | --- |
| Speed ratings | T, S, H |
| XL (extra load) | available |
| Run Flat version | no |
Toyo Celsius CUV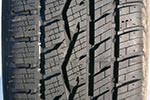 Ranked second, the Celsius corners and brakes well; winter traction doesn't equal the WR G4. Predicted tire life is good. Asymmetric tread; one half resembles a winter tire and the second an all-season tire.
| | |
| --- | --- |
| Speed ratings | S, T, H, V |
| XL (extra load) | available |
| Run Flat version | no |
Acceptable
Firestone Weathergrip
New tire. Fairly soft riding with predictable handling on cleared roads. The open tread design and relatively abundant tread sipes gave it an edge in winter. Like most winter tires, the Weathergrip is directional and stays on the same side of the vehicle when rotating it.
| | |
| --- | --- |
| Speed ratings | S, T, H |
| XL (extra load) | no |
| Run Flat version | no |
Michelin Agilis Cross Climate
Michelin's first All-Weather tire, the Agilis Cross Climate is designed for pickup trucks and large SUVs. Compliant, nice handling, and quiet on paved roads. In winter, braking distances were on the long side and the limit of adhesion attained fairly quickly on some surfaces. Directional tire; it stays on the same side of the vehicle when rotating.
| | |
| --- | --- |
| Speed ratings | R, T |
| XL (extra load) | no |
| Run Flat version | no |
Pneus A/T (All Terrain)
Tires in this segment are designed for pickups and large SUVs that sometimes go off road (but not high-end European performance models). Their chunky tread design grips well enough on loose snow to qualify for the winter tire logo. But on ice and slush all of these tires are inferior to a dedicated winter tire. That's a consequence of a hard rubber compound that provides the heat resistance and durability required for hot weather driving.
Acceptable
Pirelli Scorpion Scorpion A/T Plus
Pirelli's first All Weather tire. The tread design that looks like it came from a Lunar Rover will appeal to those who appreciate an "out there" all-terrain tire. In summer it proved to be fairly noisy, with superior trail grip. Mediocre winter cornering and braking.
| | |
| --- | --- |
| Speed ratings | R, S, T, H |
| XL (extra load) | no |
General Tire Grabber A/TX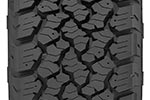 Agressive tread design and chunky styling. Very competent off road; noisy and imprecise on pavement. Good winter traction in loose snow, but braking distances were noticeably longer in very cold weather, and long on ice.
| | |
| --- | --- |
| Speed ratings | Q, R, S, T |
| XL (extra load) | no |
Yokohama Geolandar A/T G015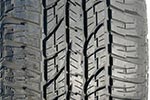 Summer performance was at the top of the All Terrain segment, with a soft ride, good handling on pavement and competent off-road performance. Mediocre in winter. Long wearing.
| | |
| --- | --- |
| Speed ratings | S, T, H |
| XL (extra load) | available |
Three-season tires (with winter tire logo)
Ranked in alphabetical order.
BFGoodrich Advantage T/A Sport LT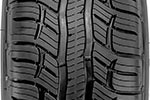 New winter tire designation for this old tire; the rubber compound reportedly has more silica to improve cold weather grip. Inadequate for winter. (Warning: A new car dealer in Montreal recommended this tire as equivalent to a dedicated winter tire, likely confused by the winter tire logo on the sidewall.)
| | |
| --- | --- |
| Speed ratings | T, H, V |
| XL (extra load) | available |
Cooper Discoverer X/T4
Les performances dans la neige sont acceptables avec ses quatre rainures longitudinales et les gros blocs de la semelle, mais il perd ses moyens sur la glace à cause d'un composé de gomme trop dur. Autrement, pour le reste de l'année, il fournira un rendement moyen. Distribution principalement par le réseau Canadian Tire; prix intéressant en période de promotion.
| | |
| --- | --- |
| Speed ratings | Q,R, T |
| XL (extra load) | oui |
Goodyear Wrangler Dura Trac
This tire really belongs only on vehicles that spend a lot of time off road. It's now rated for winter use, which permits a Quebec resident to use it legally on pavement in winter. OK in loose snow, poor on ice, slush and packed snow. Very noisy. Goodyear's new Weatherready Assurance which was not tested looks like a better year-round solution for most vehicles.
| | |
| --- | --- |
| Speed ratings | Q, S, T |
| XL (extra load) | non |