… Honda issued a recall on 83,953 CR-Vs sold between 2007 and 2011. Ontario, Quebec, New Brunswick, Nova Scotia, P.E.I. and Newfoundland and Labrador were home to the affected vehicles.
"On affected vehicles, one or both rear frame stiffener(s) may become excessively corroded over time. Such excessive corrosion may be more prevalent where a vehicle is regularly operated in regions where road de-icing salt is frequently used during the winter season," the automaker said in a release.
"Excessive corrosion to the rear frame may result in frame stiffener perforation and, in extreme cases, cause the rear-trailing arm to separate from the vehicle's frame structure …"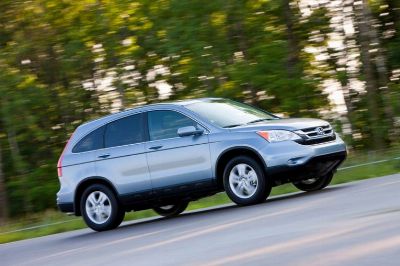 The repair is costly and time-consuming; in some cases the recalled vehicles have been on the road for 12 years. Honda is offering owners two options: an offer to buy back your vehicle; or for Honda to do the legally required repair.
At first glance, that's not a bad offer. The buyback is Honda's idea, and not required by law. The recall falls under the Motor Vehicle Safety Act, and Honda is obligated to notify owners and pay for the repair.
The buyback is no doubt the route that Honda hopes those holding the affected vehicles will choose. It contains their costs, gets potentially dangerous cars off the road faster, and might hopefully nudge owners into a new Honda …
The problem? According to George Iny at the Automobile Protection Association (APA), it's twofold: there is no clear indicator of how Honda Canada is arriving at the offered buyback amounts for these cars, and owners contacting the media and the APA offices are reporting that dealers aren't being transparent in how they're handling the issue…
George Iny responds, "the recall provides [for] a Level II inspection but consumers report their dealers are not offering the Level II inspection, [nor] the Level II repair which Honda allows up to a month of shop time and administration. My guess is they prefer to avoid the complexity, cost and administration of doing repairs. It's easier to sell you another Honda."
Accepting the buyback is an option, but in some cases, it is apparently being presented as the only one. While some owners are pleased to accept the buyback amount, they are the owners not contacting people like George Iny …
If you want your CR-V fixed, they have to fix it. If you're being offered a buyback, you deserve to know how the figure is being arrived at …
Honda is smart to get these vehicles off the road instead of facing lengthy, expensive repairs. But Iny points out that the buyback is good for Honda in another way, too: those holding the cheque are likely to spend it on another Honda.