There have been two battery swap recalls for the Bolt. The first covers 2017 to 2019 models, and the second covers 2020 to 2022 models. Recently, General Motors (GM) appears to have superseded the second recall covering 2020 to 2022 model Bolts with a less invasive correction.
Here's the original undertaking, posted on the Transport Canada website:
General Motors will notify owners by mail and replace defective battery modules.
Here's the revised recall repair:
General Motors will notify owners by mail and advise you to take your vehicle to a dealership to install an advanced diagnostic software that will monitor the high-voltage battery and warn you if it detects a problem. If you see this warning, you should contact a dealership to arrange replacement of the affected high-voltage battery module.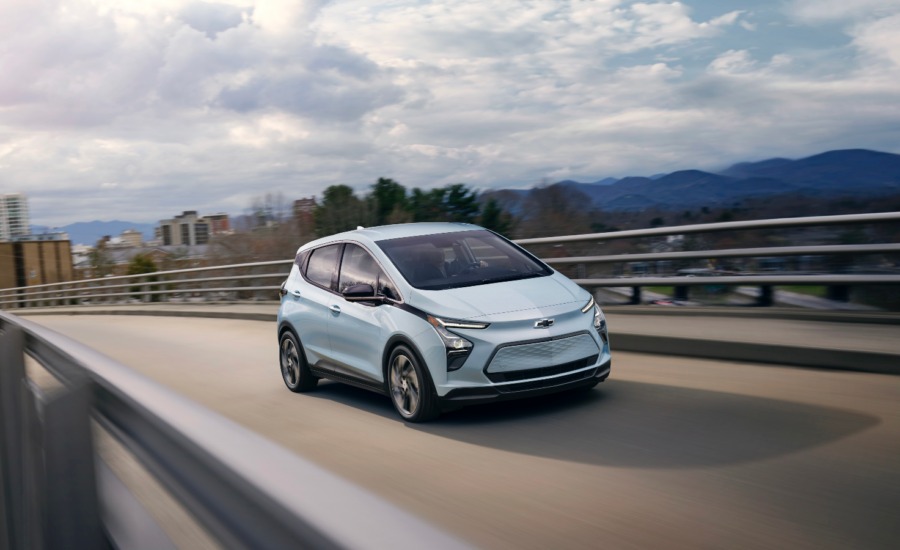 Photo courtesy of Chevrolet
GM's updated vehicle software update will permit the car to monitor itself over the next 10,000 kilometres. If the batteries are deemed "healthy," your Bolt is free and clear under the recall. The software will automatically restore full charging capability without necessitating a visit to a dealership. If not, the battery module (the pack that includes all the individual little batteries) will have to be replaced by GM.
It's likely that only a small percentage of the battery modules from those years poses a risk of fire. The diagnostic software upgrade will avoid the enormous waste involved in replacing good battery packs and reduce the demand for critical electrical vehicle (EV) battery metals, which are in short supply worldwide.
Can GM's Bolt software update really determine if the battery is safe?
The new software-based solution is likely an effective fix. Generally speaking, vehicle manufacturers have been more sensitive to fires in their EVs than in gasoline vehicles, because they want to ensure a smooth uptake of this new technology. GM implemented much better internal controls for identifying and correcting safety defects after a 2010 ignition key recall that was responsible for 124 or more deaths. GM's field reporting, recall compliance, engineering and finance departments were all upgraded to find and fix safety defects more proactively. And, according to published reports, most of the financial cost of this recall is being covered by LG Chem—the battery maker. So, GM likely is not the primary beneficiary of the cost savings.
When did GM drop the warranty extension?
In June 2023, GM took the warranty extension off the table for Bolt owners receiving the software fix.
A lifting table (1) lowers the EV battery (2) in this illustration from GM's product safety recall, issued in 2021, for Chevrolet Bolt batteries.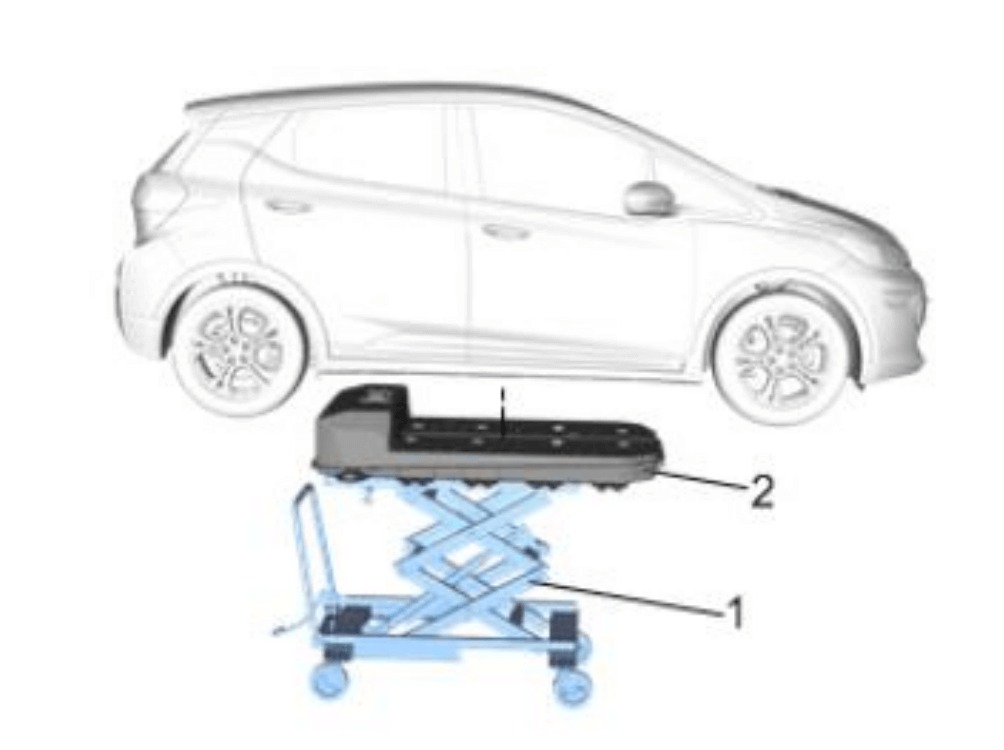 What to do about the GM Bolt battery recall
The APA recently requested that General Motors do the following two things:
Offer to extend warranty coverage to eight years from the day of the recall repair regardless of which solution applies: Stage 1 software update or Stage 2 battery pack replacement. (That's a no-brainer.)
Offer meaningful compensation to owners for the inconvenience and diminished driving range that may ultimately last for two or more years. This could include a no-charge subscription to an in-vehicle service. Still, some owners will consider the inconvenience of parking outside over one or two winters is worth more than that.
You can read APA's letter to GM below:
July 11, 2023
Ms. Marissa West
GM Canada President and Managing Director
500 Wentworth St West
Oshawa, ON
L1J 0C5
Dear Ms. West:
I am writing you today about a recent recall program concerning the 2020-2022 Chevrolet Bolt and 2022 Bolt EUV to address the risk of a fire from the batteries.
As you know, GM announced two recall programs to swap out battery modules on the Chevrolet Bolt and Bolt EUV: (i) July 2021 for 2017-2019 models, and ii) August 2021 for 2020-2022 models. Owners were promised a battery swap as well as a new battery warranty of 8 years/ 160,000km calculated from the installation date of the replacement battery module.
Recently General Motors appears to have superseded the second recall covering 2020-2022 models with a lesser correction involving a software update and monitoring over the next 10,000 km. The APA is very pleased with GM's technical solution as it promises to reduce significantly the enormous waste and cost involved in the original battery recall. It will also lighten the load on dealerships, as the software upgrade likely takes a couple of hours compared to a few days to replace a battery module.
However, in the process of simplifying the recall, General Motors appears to have taken some of the commitments it made to Bolt owners off the table, most importantly, the extended warranty on the battery module. Bolt owners perceive the enhanced warranty as important compensation for the inconvenience and delay resulting from the original recall (somewhat reduced range, parking outdoors), and now the new recall (reduced range for another 10,000 km).
A customer who was promised an extension of the battery warranty last year has every reason to receive it, even if the recall correction is now less complicated. And customers who do not receive the warranty are rightly concerned that their vehicle's batteries appear to be of lesser quality than the replacement batteries being offered to other Bolt and EUV customers driving the same models.
I am writing you to ask General Motors to:
Reinstate its offer to extend warranty coverage to 8 years/160,000 from the day of the recall repair regardless of which solution applies: Stage 1 software update or Stage 2 battery module replacement. In the event it was never GM's intention to retract the warranty offer, you should send a revised recall notice that maintains the offer.
Provide Transport Canada the correct information for the recall repair in a timely manner so that the fix for the second Bolt recall is current on the government website. GM undertook an important house cleaning of its safety culture after 2010 that was supposed to prevent this sort of misstep.
Consider offering some additional compensation to owners for the inconvenience/diminished range that may ultimately last for 2+ years for a significant cohort of your customers. This could be monetary, as Hyundai did for a similar battery replacement recall on the Kona EV, or perhaps a no-charge service or other benefit.
I look forward to General Motors Canada getting in front of the issue to maintain the reputation of the Bolt and Bolt EUVs which are excellent vehicles, and to retain the confidence of owners. I await a reply from you or your delegate at General Motors.
Yours truly,
George Iny
Executive Director