Vehicle supersizing was an obvious trend at this year's New York International Auto Show which ran from April 7-16. There is a big disconnect between the environmental reboot being asked for daily in the media and new model introductions. Toyota introduced the Grand Highlander, a longer version of its successful three-row Highlander meant to go head-to-head with the XL-sized Hyundai Palisade and Kia Telluride. Nissan is dropping the compact Leaf electric car, and replacing it with the larger and more expensive Ariya. Kia unveiled the electric EV9, a three-row SUV that is the equivalent of its largest gas model, the Telluride. General Motors will drop the practical compact Chevrolet Bolt at the end of this model year. GM's new Ultium BEV platform will underpin a wide variety of new electric vehicles, almost all of which will be larger and most more expensive from the Bolt. Premium vehicles built on the Ultium platform include the Cadillac Lyric and the massive, 4100 kilogram (9300 pound) Hummer. The Hummer's battery pack alone weighs more than a small car!
The longer Grand Highlander coming for 2024 will be offered alongside the original.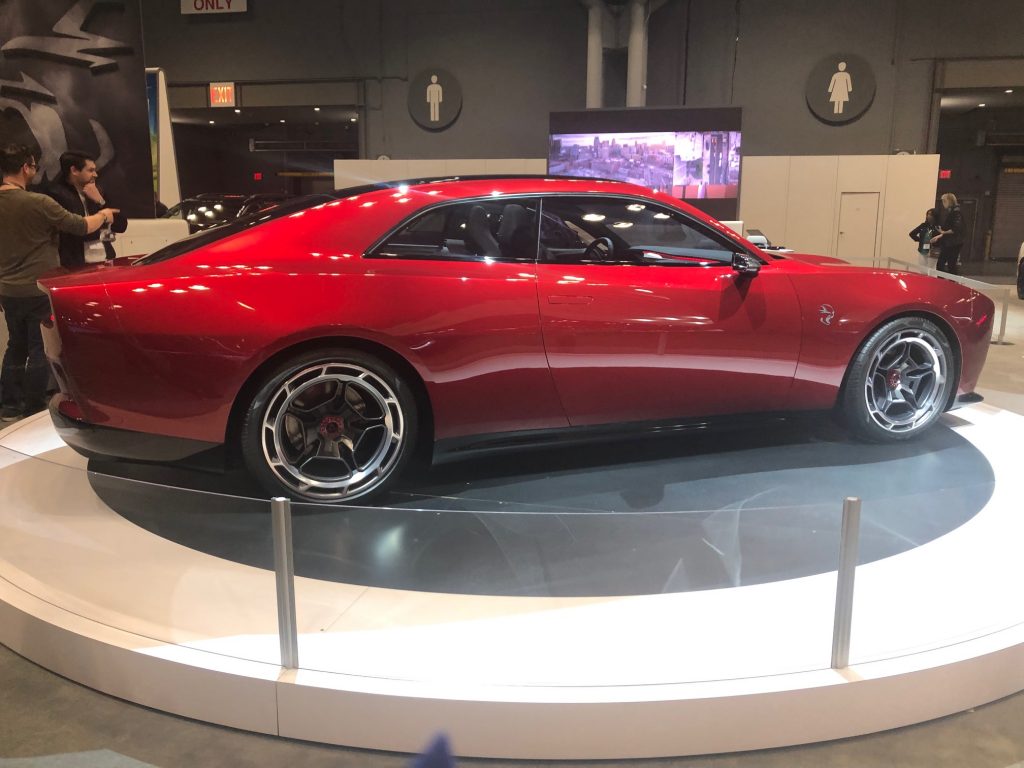 The sleek Dodge Daytona EV, a show car. It's a very long coupe.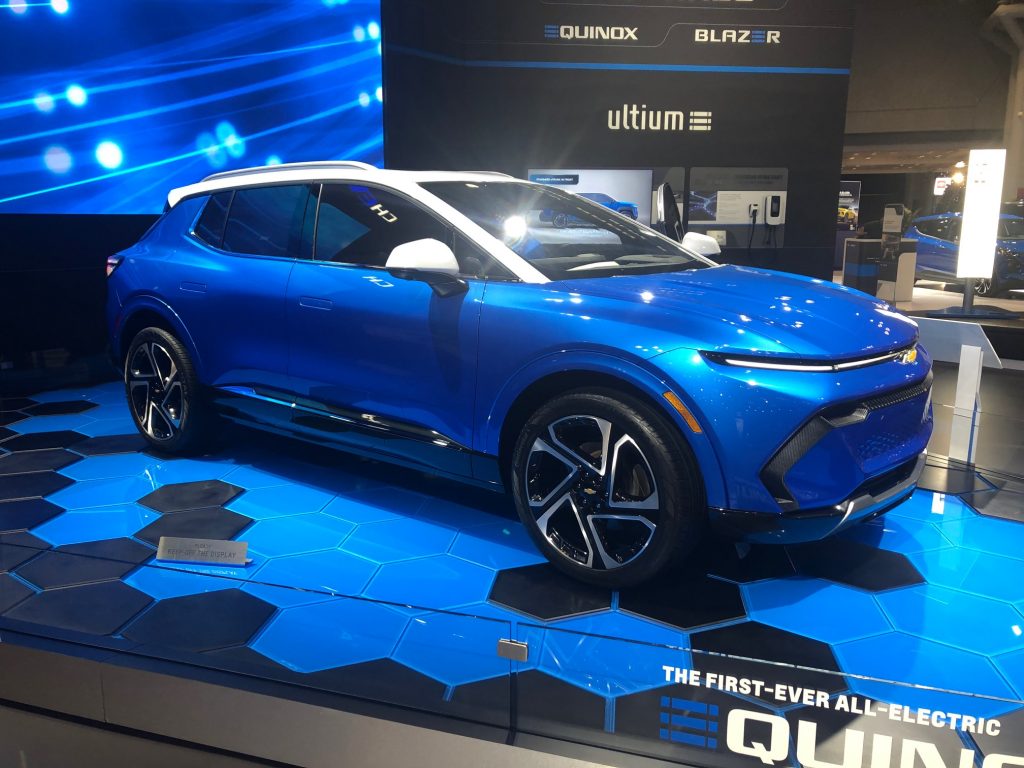 The all-new electric 2024 Chevrolet Equinox will be assembled on the Ultium platform shared with several Buick, Cadillac and Hummer models. GM has promised a starting price below that of the Bolt, currently the least expensive EV on the market.
With the exception of some luxury brands, passenger car introductions were almost non-existent. The automakers emphasized their SUVs' ability to commune with nature from inside your vehicle. Subaru had a truly impressive exhibit, combining a life-sized forest ranger station and virtual reality backdrop. The set featured real plants, a piped-in forest soundtrack, including weather events, and a convincing outdoor woodsy aroma!
This Subaru appears to have made it to the base of a glacier.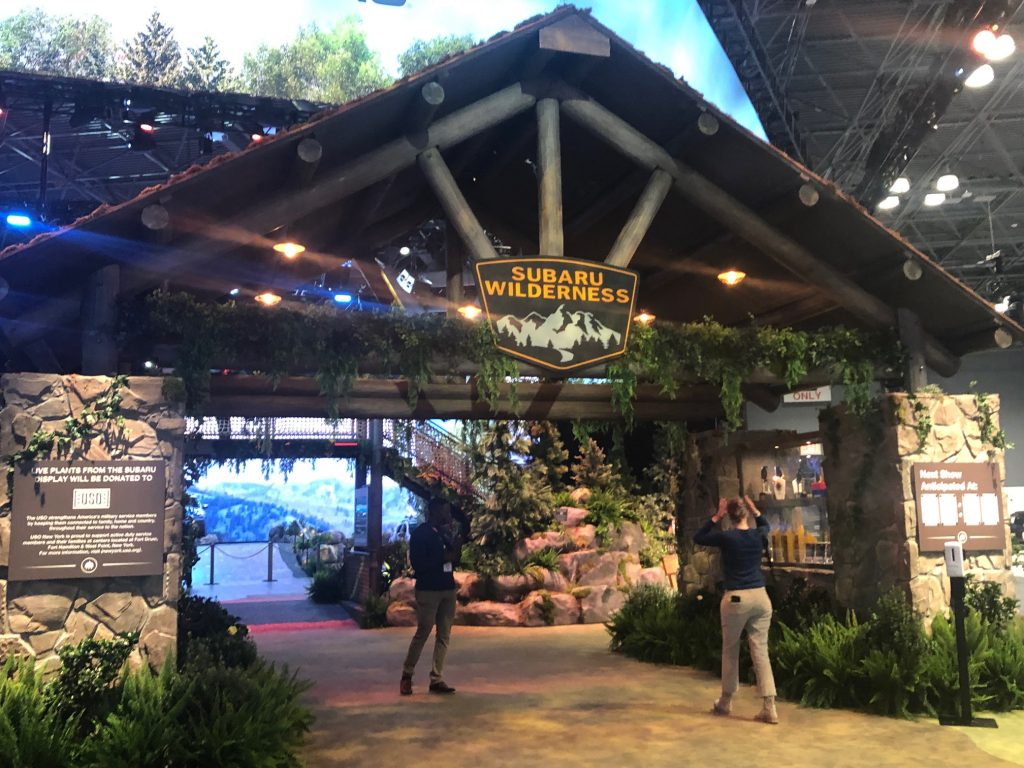 Subaru ranger station
The waterfall background is a projection, as is the very convincing holographic rainbow. Visitors appear to be standing on "wet" rocks at the base of the falls.
In the real world, few SUVs, except perhaps the Jeep Wrangler, Ford Bronco and Toyota 4Runner, could travel as far off the beaten path as the vehicles in the automakers' fantasy world, and any damage suffered while trying to ford streams and climb rocks would be certain to void the warranty. Moreover, nature is better experienced on foot rather than behind the wheel of a vehicle, and off-roading is not even permitted in most natural parks. But it's the strange association between driving a big vehicle and getting in touch with nature that the automakers are counting on to create an emotional connection with their large vehicles. Judging by their success in the marketplace, the alchemy is working.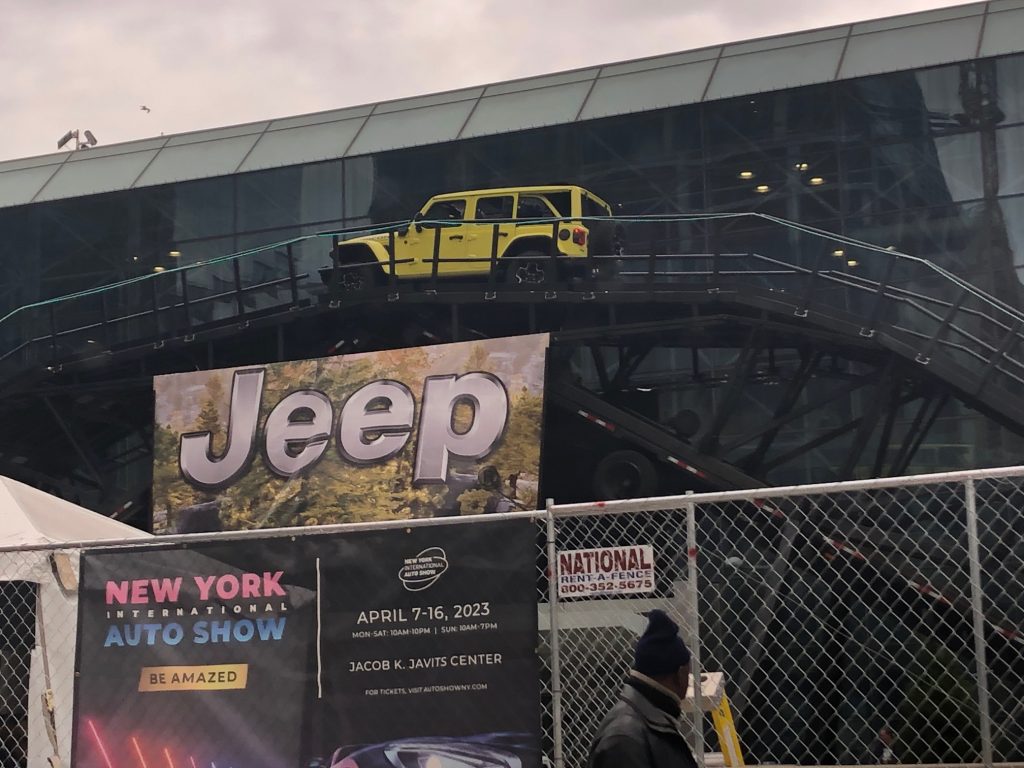 The Jeep Experience, a sort of outdoor roller coaster track, was back again this year.
Although they still account for less than one in 10 new vehicles sold, electric vehicles dominated most displays. Ford had set up a small indoor drag strip to demonstrate the performance capabilities of its electric Mustang Mach-E, and Hyundai had a small race track for the Ioniq5 and Ioniq6 EVs. Both venues offered visitors an opportunity to sit in a vehicle while a professional racing driver demonstrated the extraordinary performance of their EVs.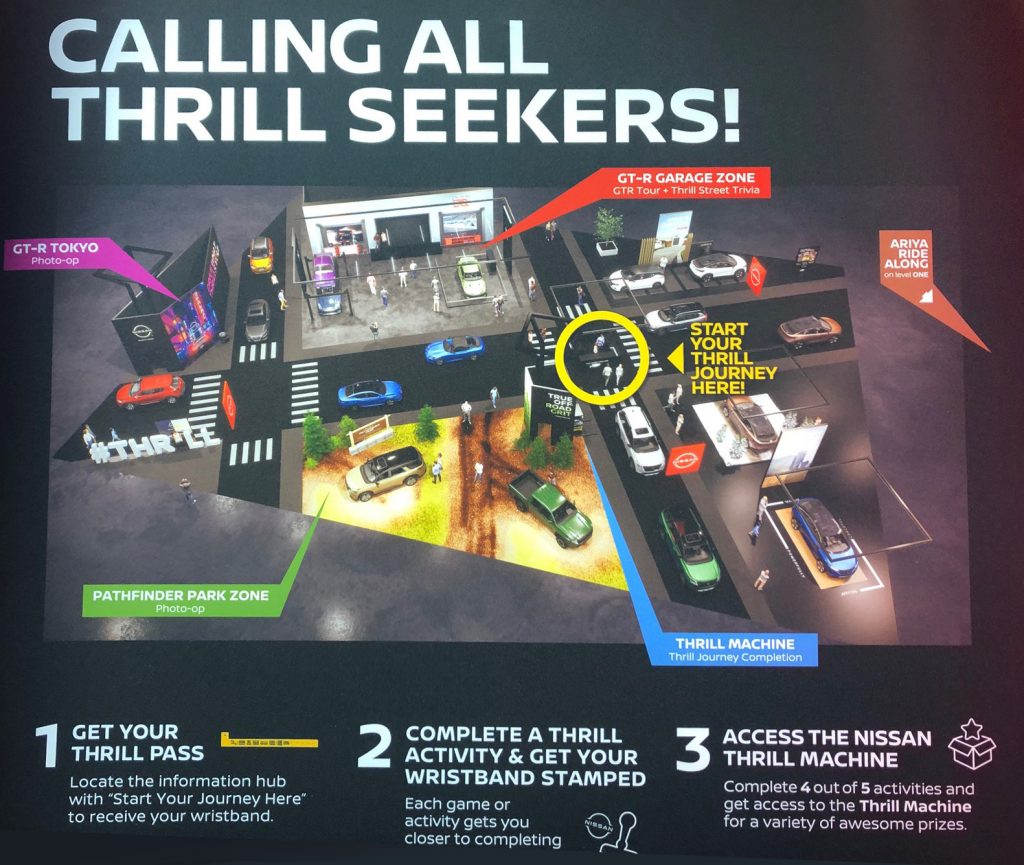 Performance apparently still sells and was prominent at several exhibits. Nissan promoted its GT-R and Z sports cars, even though they are a marginal presence in a mostly prosaic line up.
The increasing weight of new vehicles, and the astonishing, instantaneous acceleration of the new EVs are a safety concern. A fast, heavy vehicle is almost certain to inflict more damage on vehicles it strikes. And the bluff, truck-inspired hoods and vertical grills of an SUV impede the view directly in front of a vehicle, as well as increasing the risk of injury to pedestrians and cyclists in the event of an impact.
EVs carry the promise of simpler manufacturing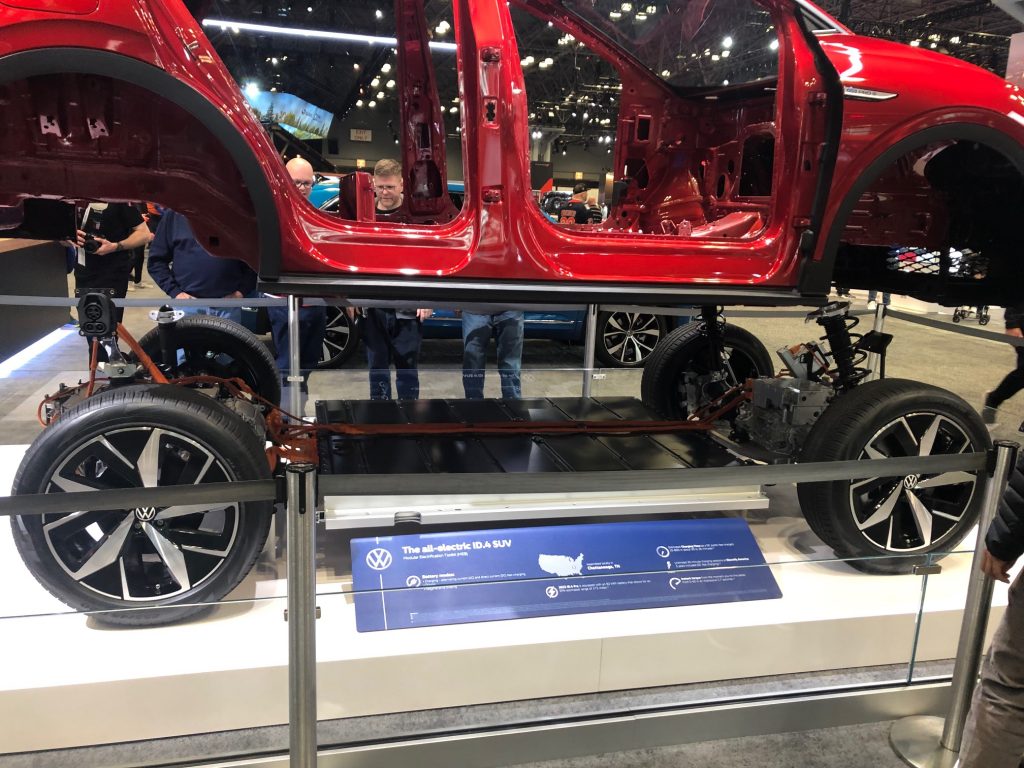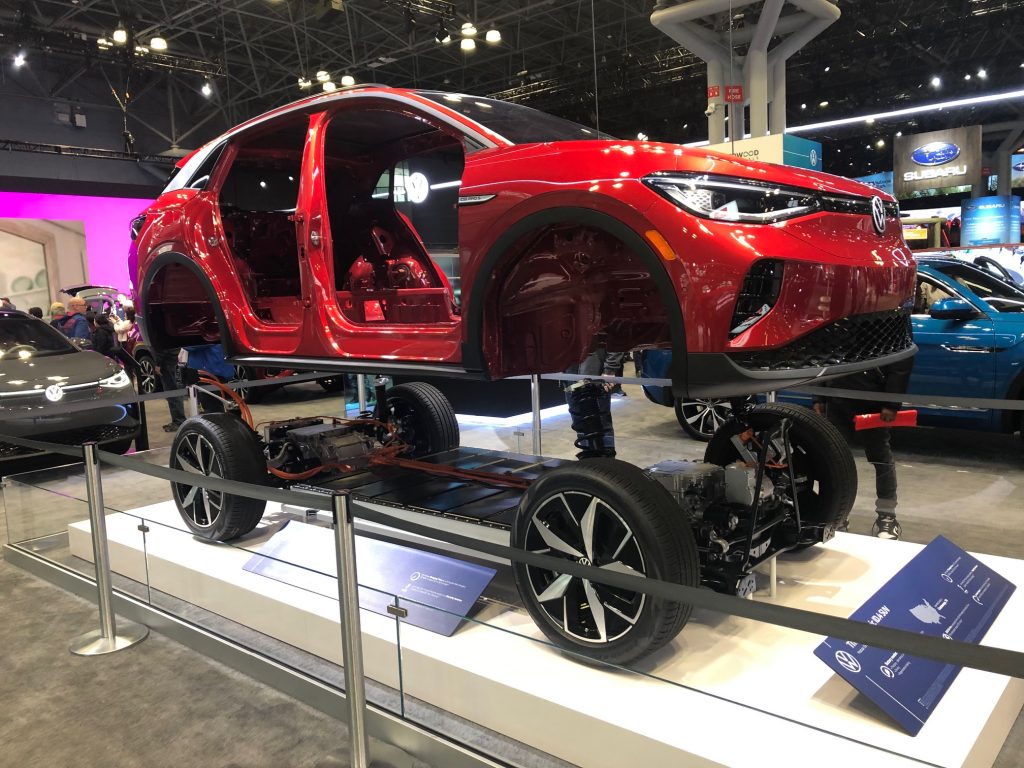 VW demonstrated the "skateboard" that underpins its new ID.4 electric SUV. It's easier to design an EV platform than a gasoline one, and the same components can be more readily adapted to a wide variety of models. The batteries are in a flat case under the floor, with an electric motor between one, or both, sets of wheels. There is no transmission, driveshaft, gas tank, or exhaust system to worry about. When battery prices drop, ideally accompanied by a more environmentally friendly chemistry than Lithium-Ion, EVs will be cheaper to manufacture than gasoline vehicles.
Hybrids generating less buzz
Manufacturers are placing less emphasis on their hybrids. Toyota is the leader in hybrid technology with an excellent line of fuel-efficient, reliable, conventional and plug-in hybrids at a variety of price points. Yet even Toyota, which currently offers only one electric vehicle (the nearly unavailable bZ4X offered in just two Canadian provinces), promoted current and future electric models more prominently. The APA is a believer in hybrids, as a good transitional solution. With a plug-in hybrid, fuel consumption is reduced by 75 percent. A PHEV's smaller battery pack can be charged using conventional 110V household current, which reduces the strain on the electrical grid. Smaller batteries require a quarter of the environmentally damaging minerals. During intercity travel, a PHEV reverts to conventional gasoline hybrid operation after the batteries are depleted, resolving the range anxiety that accompanies use of a full EV. The smaller, well-shielded, battery pack, and more conventional vehicle construction mean a plug-in hybrid is less likely to be written off after a collision than a fully electric vehicle.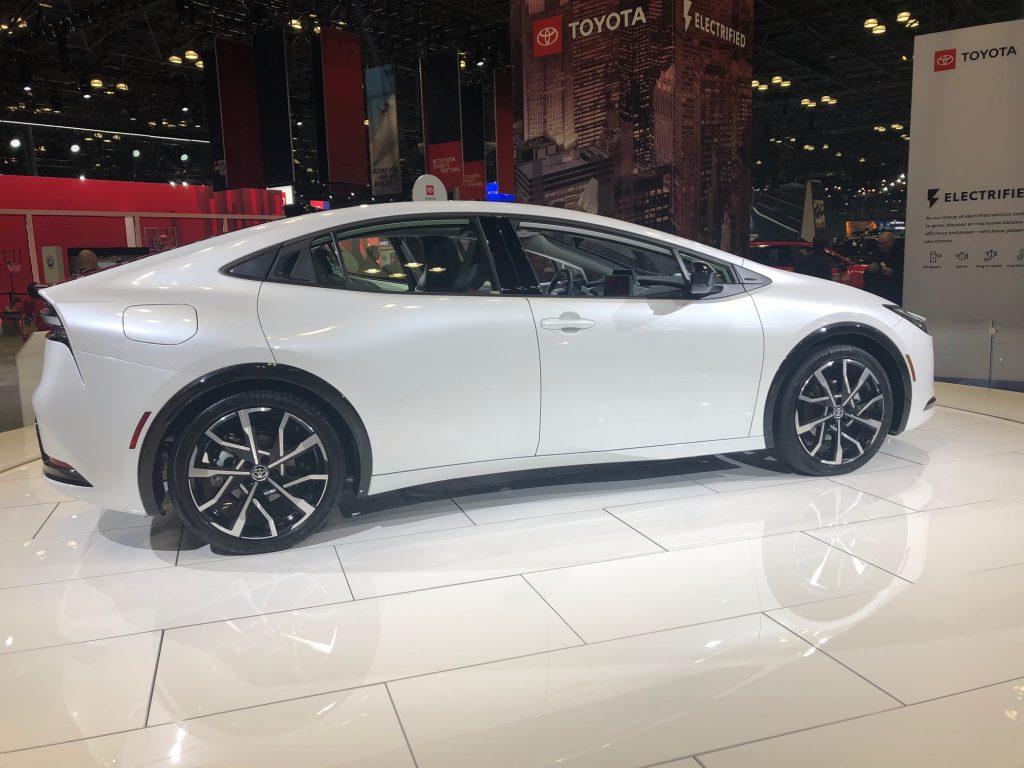 The 2024 Prius: Toyota deserves more credit for its excellent and frugal hybrids, but government and the media are headed in a different direction.
The redesigned Prius, a plug-in hybrid, is handsome and still moderately sized. Despite the complexity of two power systems, one gasoline and one electric, the Prius is among the most reliable vehicles on the market. Cabin space of the new model is a little tighter, with less rear seat legroom.
Some EV takeaways from the APA
The APA has tested several EVs and we've learned plenty from EV owners. Here are some observations:
Winter range
As a general rule, 400 kilometers of summer range on an EV translates to about 250 kilometers range in winter.
Mileage reimbursements
It's hard to beat an EV if you receive a mileage allowance from an employer for use of your personal vehicle. Reimbursement rates per kilometer are currently the same as for gasoline vehicles, but without the gasoline expense. Electricity cost is an eighth of the gasoline outlay.
Insurance rates may be higher
Insurance premiums are starting to increase, as the insurance industry's honeymoon with EVs is coming to an end. Even with a "Green vehicle discount" from their insurer, consumers are discovering that the premium can be much higher than for a gasoline model. EVs are more likely to be written off than a gas vehicle, particularly Teslas, which are built in an unconventional way that is a challenge to repair, particularly the batteries. Delays for replacement parts for some EVs are so long that the insurers have to factor in a larger outlay for daily rentals to keep customers on the road while their vehicles are undergoing collision repairs.
Scheduled maintenance costs less
Scheduled maintenance for EVs is somewhat cheaper than for the equivalent gasoline model, but it's certainly not near-zero as some reports would have you think. For a Hyundai Kona, which is offered in both electric and gasoline versions, the electric version saves about 30 percent of the maintenance outlay for the gas model. Brake caliper service and faster tire wear (about 20 percent) contribute to the cost of EV service. Some new car dealers charge a higher hourly rate to service EVs to cover the additional training and equipment costs. And some shops use more expensive part-time travelling EV technicians for service, because their EV volume doesn't justify paying the higher rates demanded by an inhouse expert.